Guest Commentary: E-Book Literacy
by Robert Bolick, McGraw-Hill

To the Editor: Letters
---


From Gutenberg to the Global Information Infrastructure: Access to Information in the Networked World
Christine Borgman. MIT Press, 2000
Reviewed by: Edward A. Galloway, University of Pittsburgh
"...The book synthesizes her earlier journal articles that were based on extensive empirical research..."
---


PhysDoc: A Distributed Network of Physics Institutions Collecting, Indexing, and Searching High Quality Documents by using Harvest
Thomas Severiens, Michael Hohlfeld, Kerstin Zimmermann, Eberhard R. Hilf, Carl von Ossietzky-University Oldenburg

The Dublin Core Metadata Initiative: Mission, Current Activities, and Future Directions
Stuart L. Weibel, OCLC Office of Research, and Traugott Koch, NETLAB

Information Services for Higher Education: A New Competitive Space
Carol Ann Hughes, Questia Media, Inc.

Intellectual Property Conservancies
David Bearman, Archives & Museum Informatics
---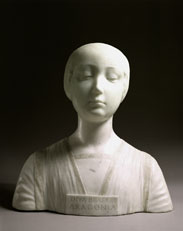 Bust of Beatrice of Aragon
Francesco Laurana, Italian, c.1430-c.1502 Beatrice of Aragon, Probably 1470-1479 Marble, H. 16 in. x W. 15 7/8 in. x D. 7 7/8 in. The Frick Collection, New York, NY, USA Bequest of John D. Rockefeller, Jr., 1961 61.2.86 The AMICO Library: TFC_.19612086 © 1998 The Frick Collection, New York. Used with permission. The AMICO Library is D-Lib Magazine's featured collection this month.


Report on the Virtual Reference Desk Conference October 2000, Seattle, Washington
Roxanne Missingham, National Library of Australia

NKOS Group Reviews Draft DTD for Thesauri
Gail Hodge, Information International Associates, Inc.

Taxanomic Databases Working Group Meeting TDWG 2000 - Digitizing Biological Collections
Walter G. Berendsohn, Botanic Garden and Botanical Museum Berlin-Dahlem

Nupedia.com: The Open Content Encyclopedia
Lawrence M. Sanger, Ph.D., Nupedia

NoVA - Non-Visual Access to the Digital Library
Jenny Craven, CERLIM, Manchester Metropolitan University

NASIG Seeks Applicants for Student Grants and for the Fritz Schwartz Serials Education Scholarship
Anne E. McKee, The North American Serials Interest Group, Inc.

E-Learning Takes Important Step Forward (Press Release)
Stuart Weibel and Eric Miller, Dublin Core Metadata Initiative

First Personalized Alert Service for Preprints
Walter Warnick, OSTI, U.S. Department of Energy

IDEALOnDemand Now Offers Pay-Per-View Access To All Journal Articles Published on IDEAL® (Press Release)
Daria DeCooman, Academic Press

29 Leading Ecology Journals Now Available Online (News Release)
Carol MacAdam, JSTOR
---
---
Sites for D-Lib Magazine:
The Corporation for National Research Initiatives, Reston, Virginia, U.S.A. (originating site)
UKOLN: The UK Office for Library and Information Networking, Bath, England (mirror site)
The Australian National University Sunsite, Canberra, Australia (mirror site)
State Library of Lower Saxony and the University Library of Goettingen, Goettingen, Germany
(mirror site)
Universidad de Belgrano, Buenos Aires, Argentina (mirror site)
Academia Sinica, Taipei, Taiwan (mirror site)
---
Masthead | Guidelines for Authors | Access Terms
Subscriptions | Privacy Policy | D-Lib Forum
---
D-Lib Magazine is produced by the Corporation for National Research Initiatives (CNRI) and is sponsored by DARPA on behalf of the Digital Libraries Initiative under Grant No. N66001-98-8908.
Please send questions or comments to: [email protected]
Copyright© 2000 Corporation for National Research Initiatives
DOI: 10.1045/december2000-contents
---