Introduction
This report provides a general summary of the IATUL 2007 conference, which was held for the first time in Sweden and hosted speakers from all over the world. The general aim of the IATUL annual conferences is to provide members and other interested professionals the opportunity to discuss issues facing tertiary education libraries, and the IATUL 2007 conference highlighted major issues (such as global access to scientific literature, institutional repositories and open access initiatives) that challenge science and technological libraries worldwide.
IATUL (the International Association of Technological University Libraries) was founded in 1955 as a voluntary international non-governmental organization of libraries uniting all librarians, information scientists and others who are concerned with the activities in science and technological libraries. It works in close cooperation with the International Federation of Library Associations and Institutions (IFLA) and the International Council for Scientific and Technical Information (ICSTI). IATUL membership is institutional with a senior library manager nominated as contact for each institution.
Each year a different theme is addressed by the annual IATUL conference; this year's theme was "Global Access to Science- Scientific Publishing for the Future".
Conference Program
Over four event-packed days, 10 keynote speakers and 33 paper presenters addressed delegates in 11 parallel sessions, which flowed seamlessly from one topic to another. Following are some of the aspects that challenge libraries today that were discussed during the content-packed conference:
Open access policies
Institutional repositories
E-publishing
Constant change in information needs
Innovation through collaboration
Literature mining
The IATUL 2007 conference provided an excellent opportunity for attendees to listen to and mingle with others, and to discover the different terrains of the information landscape across the spectrum of academia and the corporate world. The conference attracted the attention of senior managers and library directors as well as that of young professionals responsible for information services and resources management.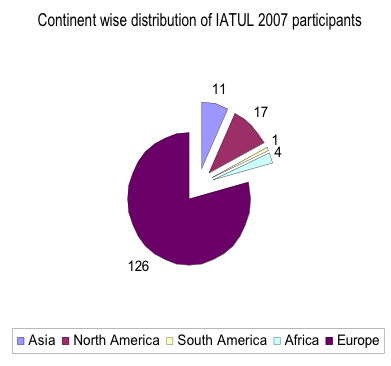 Figure 1. Continent-wise distribution of IATUL 2007 participants
Attendees included those from Austria, Australia, Bangladesh, Belgium, Brazil, Canada, Denmark, Egypt, Estonia, Finland, Germany, Greece, India, Ireland, Japan, Latvia, Norway, New Zealand, The Netherlands, Poland, Slovenia, South Africa, Spain, Sweden, Switzerland, the UK and the USA. The conference provided a very informal and relaxed atmosphere in which attendees were able to meet and interact with each other, including conference organizers, leaders and speakers with whom attendees might otherwise not have had such an opportunity.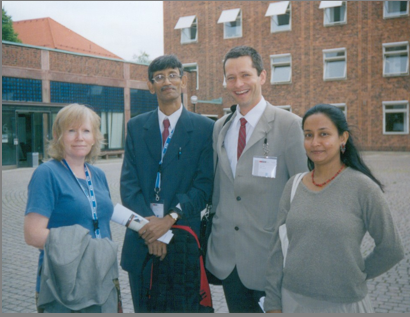 Figure 2. The authors and two other IATUL 2007 attendees (left to right) Elisabeth Hammam, Royal Institute of Technology; Manik Mandal, National Institute of Technology; Jens Vigen, CERN; and Maitrayee Ghosh, Indian Institute of Technology. Used with permission.
Keynote addresses at IATUL 2007 were delivered at strategic points throughout the course of the conference and included the following:
Tom Cochrane, Deputy Vice-Chancellor, Queensland University of Technology, Brisbane, Australia (Global Access to Science – Meeting the Revolution)
Rüdiger Voss, Physics Dep, CERN, Geneva, Switzerland (Open Access Publishing in Particle Physics)
Jens Vigen, Library Director, CERN, Geneva, Switzerland (Open Access and Repositories: Beyond Green and Gold)
Erik Sandewall, Scientific Information and Learning, KTH, Stockholm, Sweden, (From Full Text Storage to Full Contents Representation: Information Science Between Library Science and Informatics)
Håkan Carlsson, Lund University, Lund, Sweden (Open Access – Reaching the Masses)
John Wilbanks, Executive Director, Science Commons/MIT CSAIL, Cambridge, MA, USA (New Metaphors in Scientific Communication: Libraries and the Commons)
Lars Juhl Jensen, EMBL-Heidelberg, Heidelberg, Germany (Biomedical Literature Mining and Why We Really Need Open Access)
Jonathan Adams, Director, Evidence Ltd, Leeds, UK (The New Geography of Science)
Alice Keller, Head of Collection Management, Oxford University Library, Oxford, UK (The Disincentive of E-only)
Rune Nilson, Professor, University of Bergen, Bergen, Norway (Research Knowledge in a Global Perspective, a Public Good or Part of a Knowledge Apartheid)
Parallel Sessions
Below are brief descriptions of some of the parallel session presentations that the author attended. For a full list of speakers and topics, see the IATUL 2007 Conference program (http://lib.kth.se/iatul2007/program.asp)
Bo-Christer Björk spoke on the topic "A model of scientific communication of a global distributed information system". He said that the purpose of the model is to act as a roadmap for policy discussions and research concerning the process. In comparison to earlier models found in the literature, the model he described is more detailed, hierarchical and includes more modeling constructs (activities, inputs, outputs, controls, mechanisms).
Jan Brase's presentation was about a system for easy access to scientific information using DOIs. The German National Library of Science and Technology (TIB) is now established as a DOI-registration agency for scientific primary data as a member of the International DOI Foundation (IDF). Primary data related to geo-scientific, climate and environmental research are stored locally at those institutions responsible for the evaluation and maintenance of the data. In addition to the local data provision, the TIB saves the URL where the data can be accessed, including all bibliographic metadata. When data are registered, the TIB provides a Digital Object Identifier (DOI) as a unique identifier for content objects in the digital environment.
Wayne Johnston discussed how the Library can act as an agent for transforming scholarly communications. As traditional publishing models evolve and alternative models emerge, new opportunities and challenges face scholars. According to Johnston, academic libraries can play a critical role in transforming scholarly communications within the campus community. Johnston's paper focused particularly on what is happening at the national level in Canada as well as at the University of Guelph where he works.
"Global Access to Science Information: The Changing Dynamics of Access and Practices in India" was the title of the presentation by Manik Mandal. He provided an insight into the changing dynamics of access to science information in India and described the changing dynamics of publishing technology, open access journals and open access initiatives, and their impacts on scholarly publishing.
Pablo Ortellado presented a paper entitled "The Brazilian Model for Free Access to Scientific Publications". He said that although Brazil lacks a cohesive national policy for free access to scientific publications, local initiatives by universities, funding agencies and state and federal government provide the framework for free access. A lively question-and-answer session followed Ortellado's presentation.
John Wilbanks's presentation was entitled "New Metaphors in Scientific Communication: Libraries and the Commons". He stated that the idea of communicating scientific ideas as a "paper" is an ancient one. The search for new metaphors is afoot, and one new metaphor is that of the "commons". The Creative Commons and the Open Source Software community provide examples of this new metaphor. Wilbanks examined the potential role of the commons in scientific communication and the potential roles that libraries might play in the evolution of a science commons.
Biomedical literature mining was the topic discussed by Lars Juhl Jensen. The vast amount of biomedical abstracts available from a single source, Medline, has become an important breeding ground for the development of new methods for mining the scientific literature. Jensen stated that methods for extracting biomedical facts from the scientific literature have improved considerably, and the associated tools will likely soon be used in many laboratories to interpret large-scale experimental data sets. Owing to the increasing body of text, literature mining is becoming useful for automatic hypothesis generation, and thus for driving biological discovery.
In her talk, Katarina Larsen brought attention to two current traits of the science system: higher levels of internationally collaborative research and increased application of bibliometric measures for impact assessment.
The topic of discussion in a paper by Folke Snickars, Bjårn Marklund, and Tom Letcher was a comparative study between the research performance of KTH and selected UK universities. The comparison was mainly made with the help of what are called "Evidence footprints" and involved 15 subject areas of research. The study primarily provided a methodological analysis aimed at testing the comparability of Swedish and UK data on research performance.
"The New Geography of Science" was an interesting presentation by Jonathan Adams. He stated that the balance of research competency is shifting, and the conventional domination of "western" research-based economies and ideas is no longer a certainty. Bibliographic data are critical in charting this changing geography. Different cultural approaches may create new approaches to science.
The full papers from the IATUL 2007 conference will be available soon at the conference website (http://lib.kth.se/iatul2007/).
Other IATUL 2007 Events
Other conference events included guided tours of Uppsala University, Gustavianum, the Uppsala cathedral and Carolina Rediviva, the main library of Uppsala University.
IATUL delegates also had the option of attending the ETD 2007 Conference in Uppsala (http://epc.ub.uu.se/etd2007), including the GUIDE Workshop, on June 13, which introduced GUIDE and elaborated on its structure, aims, objectives, and progress thus far. The GUIDE workshop invited feedback and dialogue, encouraged sharing of activities and experiences, and agreed to a plan for the group for ETD 2008. The workshop included the following:
an interoperability demonstrator portal, specifically for doctoral e-theses in five European countries: Sweden, Netherlands, Germany, the UK and Denmark.
the DART-Europe project, which is exploring the creation of a European model for the deposit, discovery, use and long-term care of research theses in an open access environment.
IATUL 2007 organized a mid-day poster session that took place the second day of the conference. The range of topics covered in the poster session varied widely and represented work being done in several different countries.
A number of local sight-seeing tours were offered to delegates of IATUL 2007, and included a cruise on the boat Delphin II. The harbour cruise from Nybroviken to Stockholm city hall was sponsored by Svensk Biblioteksforening and PrioInfo.
An opening reception for IATUL 2007 took place at the Stockholm city hall. The city hall is spectacular; built between 1911-1923 and designed by the architect Ragnar Östberg, it is one of Sweden's foremost buildings in the National Romantic style. (It also serves as the gathering place each year for the Nobel Prize winners.)
The Conference dinner on June 12 was held at the National Library of Sweden-Kungl. Biblioteket (KB), an important source of information about Sweden and its European heritage. In addition to the excellent dinner, attendees enjoyed access to the library and its current exhibition. It was a lovely evening!
Concluding Remarks
Over the past 27 years, IATUL has become well known for providing conferences where the most critical issues dealing with the development and strengthening of cooperation among science and technological university libraries are discussed. Moreover each IATUL conference is a forum for dialog among information professionals on a variety of topics and provides the opportunity for attendees to think, reflect and develop strategies for the benefit not only of information-producing and disseminating organizations but also for the benefit of society as a whole.
IATUL 2007 stressed the importance of global collaboration in exchanging ideas and project experiences through various channels of communication, in areas ranging from information literacy, open access to information, scholarly communication, institutional repositories, outreach services, faculty and library collaboration in various research programs, pricing issues with publishers and – last but not least – the crucial information needs of users within the participants' institutions. IATUL conferences are always worth attending!
Information about next year's conference, IATUL 2008, can be found at the website at http://www.aut.ac.nz/iatul2008/. The IATUL 2008 theme is Digital Discovery: Strategies & Solutions.
Acknowledgements
The authors express their sincere appreciation to the IATUL 2007 organizing committee and to Maria Heijne, IATUL president, for their warm welcome, hospitality, stimulating programs, enjoyable guided tours, and networking opportunities.
The first author also expresses her thanks to Professor Sanjay G. Dhande, Director and Professor Somenath Biswas, Dean Faculty Affairs, Indian Institute of Technology, Kanpur, India for granting permission to the author to attend the IATUL 2007 conference.
Copyright © 2007 Maitrayee Ghosh and Manik Mandal