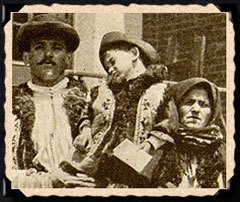 Photograph of Rumanian immigrants, from On the Trail of the Immigrant by Edward A. Steiner, Fleming H. Revell Company, NY. Courtesy of Digital History. Used with permission.
Digital History makes high-quality historical resources available to teachers and students at no charge.
The site includes a comprehensive American history textbook, online historical exhibitions, and succinct essays on film history, ethnic history, and the history of science and technology. Our annotated primary sources include extensive resources on the revolutionary and antebellum eras, slavery, Mexican American history, and Native American history.
Special features include an interactive timeline and extensive resources, including ready access to historical maps, music, and newspapers. Our visual histories of the Civil War and Reconstruction feature text by Columbia University Professor Eric Foner and images from the Chicago Historical Society and other leading archives. Teachers and students can use our "Ask the Hyperhistorian" feature to pose questions to a leading historian. A special section provides teachers with fact sheets, handouts, and modules that allow students to do history through art, music, photographs, and other primary sources.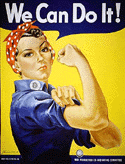 World War II poster. J. Howard Miller, artist. Produced by Westinghouse for the War Production Co-Ordinating Committee. NARA Still Picture Branch. Courtesy of Digital History. Used with permission.
With content prepared by Steven Mintz, the John and Rebecca Moores Professor at the University of Houston, Digital History has been designed and developed by Sara McNeil, Associate Professor of Instructional Technology in the UH College of Education, and conforms to ADA guidelines.
The home page for the Digital History web site is located at http://www.digitalhistory.uh.edu/.
Contributed by:
Steven Mintz
John and Rebecca Moores Professor of History
University of Houston
Houston, Texas 77204-3003
<smintz@uh.edu>