5.2 Analysis
After completion of the probe period, researchers transformed all the information provided in the diary, screenshots, statements and interviews into short sentences that condensed the information into useable units for further analysis. By doing so, all partners were able to present information in a comparable format, which enabled the affinity diagramming analysis. During a two-day meeting researchers discussed their data, identified possible clusters, and began to plot these themes by posting the condensed statements on a wall. The activity proceeded until all statements were placed on the wall in a random number of groups. Participants then began to allocate titles to the different clusters using coloured post-it notes. During this stage some statements were moved to different groups, or entirely new groups were created. The diagramming was equally not restricted to textual material. Participants brought along the screenshots provided by users and other visual materials, which were also assembled on the wall. The process of analysis led to a final affinity diagram with a variety of statements and materials grouped into themes.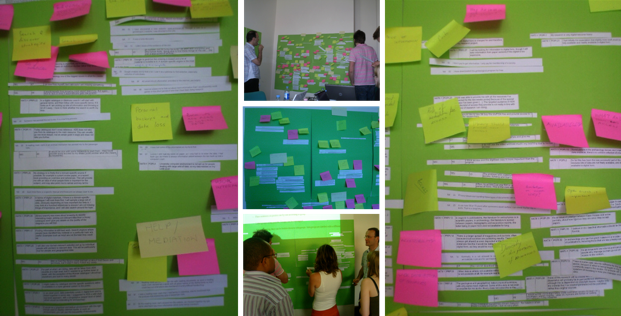 Figure 2: Images of affinity analysis process
5.3 Findings
The affinity analysis identified a number of themes that are significant to users when working with digital information. These themes will act as guidelines for analysis in next iterations where they will be augmented and refined. They can be grouped into the following areas:
Authenticity
Provenance
Access and usability
Search and selection
Granularity of data
More significantly, the study also tested the suitability of the methodology used and highlighted areas for improvement. The exercise clearly demonstrated that the general research process was effective, with the qualitative research, Contextual Design and Cultural Probe techniques offering effective and compatible methodologies for gathering and analysing the data required. Qualitative methodologies applied in this first iteration proved to be useful for gaining information on how users of libraries, archives and data centres work with digital objects and an understanding of their priorities. The grounded theoretical framework of Contextual Design validated the approach further, and the aspects of Contextual Design which were applied correctly in the first iteration were effective. The Contextual Inquiry step allowed for the collection of data through a mixture of interviews and 'observation' (via the probe), providing a good balance between information reported in an interview setting, and the more detailed data recorded on a daily basis. The Consolidation step was also useful as a way of collaboratively analysing the data and identifying common themes in a relatively short amount of time.
The semi-structured interview technique was highly successful, as it allowed interviewers to explore individual topics raised by the user whilst still addressing the general themes. The data probe demonstrated its ability to collect detailed and rich information, with the various aspects of the probe all contributing to the gathering of a variety of data. The decision to customise the probes based on individual requirements was an effective way to test the methodology, with strengths and weaknesses identified that can be effectively addressed in future probe designs.
Conversely, the studies also highlighted some areas that require refinement. Although the Contextual Design process was used as a starting point for the research process, the steps adopted were not always fully utilised, or should have been followed more rigorously in order to take maximum advantage of the technique. In particular the Consolidation step concluded at the initial affinity diagramming stage, and it should have continued further to fully test the methodology adopted. A clear matrix of users was not consistently followed for participant selection, and this will be required in future iterations to ensure appropriate types of candidates are chosen. Finally, the decision to test various approaches and customise the probes was carried out at the expense of uniformity across the studies, leading to some challenges in integration and analysis of results. This outcome was somewhat envisaged due to the exploratory nature of the iteration, but customisation should be applied with caution in any subsequent studies.
6 Conclusions and Next Steps
This article has shown the methodological decisions made on research into usage and communication for the Planets project, and provided details of how the chosen approaches have been tested and analysed. The initial studies demonstrated the validity of the approach for gathering data on user work habits, but also a need for further refinement of the techniques to guarantee effective collection and analysis in the remaining research activities. Based on the outcomes of the pilot study, a number of revisions to the methodology will take place to ensure subsequent probes provide data collection techniques that are principally uniform across the different studies/fields. This will allow consistent data gathering and the ability to integrate results effectively. New enhanced probe iterations will include the following refinements:
Participants will be chosen through a more structured process, with a clear user matrix and communication with experts or 'key agents' to ensure initial identification of user groups specific to the focus area domain.
Semi-structured interviews will be standardised according to general discussion areas in order to allow for comparable results.
Probes will consist of a semi-structured diary template, available in both digital and analogue formats, along with statements, screenshots, interesting files and audio recordings.
In addition to the data probe, short field studies (half to one day) will be carried out to observe any interesting events and activities that occur during the probe period.
Analysis of data will be more comprehensive according to the Contextual Design steps, and will include interaction with external experts to validate and expand results.
The number of users and length of probe completion periods will be standardised within each iteration.
Subsequent iterations of the research will build upon the initial findings and conclusions through investigation of a wider variety of users. The qualitative research will then be validated as previously outlined through the use of questionnaires, and eventually through workshops and focus groups where findings will be discussed with a representative sample of users or researchers. The next set of probe studies will concentrate on the communication processes used in e-government and scholarly communication within the science and arts communities. They will integrate the previous findings and revisions, and ensure a robust methodology for collection and analysis of data.
Bibliography
Akselbo, J.L., Arnfred, L., Barfort, S., Bay, G., Christensen, T.B., Hansen, J.H., Jensen, H.T., Markussen, G.B., Morthorst, A.M. and Nielsen, M.P., 2006. The hybrid library: from the users' perspective. Available from: <http://www.statsbiblioteket.dk/om-statsbiblioteket/brugbarhed/feltstudier/feltstudier>. [Accessed 18 March 2008].
Anderson, I., 2004. Are you being served? Historians and the search for primary sources. Archivaria, 58, 81-129.
Banwell, L. and Coulson, G., 2004. Users and user study methodology: the JUBILEE project. Information Research [online], 9 (2). Available from: <http://informationr.net/ir/9-2/paper167.html>. [Accessed 18 March 2008].
Beyer, H. and Holtzblatt, K., 1998. Contextual design. Defining customer-centred systems. San Francisco: Morgan Kaufmann.
Carr, R., 2006. What users want: an academic 'hybrid' library perspective. Ariadne [online], 46. Available from: http://www.ariadne.ac.uk/issue46/carr/ [Accessed 18 March 2008].
Conway, P., 1986. Facts and frameworks: an approach to studying the users of archives. American Archivist, 49, 393-407.
Crabtree, A., Hemmings, T., Rodden, T., Cheverst, K., Clarke, K., Dewsbury, G., Hughes, J., Rouncefield, M., 2003. Designing with care: adapting cultural probes to inform design in sensitive settings. In: Proceedings of the 2004 Australasian Conference on Computer-Human Interaction (OZCHI2004). Brisbane: Ergonomics Society of Australia, 4-13.
Curtis, P., Heiserman, T., Jobusch, D., Notess, M., and Webb, J., 1999. Customer-focused design data in a large, multi-site organization. In: Proceedings of the SIGCHIConference on Human Factors in Computing Systems: the CHI is the limit (Pittsburgh, Pennsylvania, United States, May 15 - 20, 1999). CHI '99. New York: ACM Press, 608-615.
Duff, W., 2002. Understanding the information-seeking behaviour of archival researchers in a digital age: paths, processes and preferences. In: Proceedings of the DLM-Forum 2002. @ccess and preservation of electronic information: best practices and solutions. Barcelona, 6-8 May 2002. Luxembourg: Office for Official Publications of the European Communities, 331-339.
Esterberg, K.G., 2002. Qualitative methods in social research. Boston: McGraw Hill.
Gaver, B., Dunne, T. and Pacenti, E., 1999. Cultural probes. Interactions, 6 (1), 21-29.
Gaver, W., Boucher, A., Pennington, S. and Walker, B., 2004. Cultural probes and the value of uncertainty. Interactions [online], 11 (5) 53-56. Available from: <http://www.equator.ac.uk/index.php?module=uploads&func=download&fileId=209>. [Accessed 18 March 2008].
Graham, C., Cheverst, K. and Rouncefield, M., 2005. Whose probe is it anyway? Workshop on appropriate methods for design in complex and sensitive settings at OzCHI 2005. Available from: <http://www.caside.lancs.ac.uk/publications/whoseprobe.pdf> [Accessed 18 March 2008].
Harley, D., 2007. Why study users? An environmental scan of use and users of digital resources in humanities and social sciences undergraduate education. First Monday, 12 (1). Available from: <http://firstmonday.org/issues/issue12_1/harley/index.html>. [Accessed 18 March 2008].
Harris, C., 2005. Archives users in the digital era: a review of current research trends. Dalhousie Journal of Information & Management [online], 1 (1). Available from: <http://djim.management.dal.ca/issues/issue1_1/harris/index.htm>. [Accessed 18 March 2008].
Holtzblatt, K., Wendell, J.B., and Wood, S., 2005. Rapid Contextual Design: a how-to guide to key techniques for user-centred design. San Francisco: Morgan-Kaufmann.
Hutchinson, H., MacKay, W., Westerlund, B., Bederson, B.B., Druin. A., Plaisant, C., Beaudouin-Lafon, M., Conversy, S., Evans, H., Hansen, H., Roussel, N. and Eiderbäck, B., 2003. Technology probes: inspiring design for and with families. In: Proceedings of the 2003 CHI Conference on Human Factors in Computing Systems (CHI'03). Place of publication, ACM Press, 17-24.
Lynch, C., 2007. The shape of the scientific article in the developing cyberinfrastructure. CTWatch Quarterly [online], 3 (3). Available from: <http://www.ctwatch.org/quarterly/articles/2007/08/the-shape-of-the-scientific-
article-in-the-developing-cyberinfrastructure/>. [Accessed 18 March 2008].
McDonald, S., Monahan, K. and Cockton, G., 2006. Modified contextual design as a field evaluation method. In: Mørch, A., Morgan, K., Bratteteig, T. Ghosh, G. and Svanaes, D., eds. Proceedings of the 4th Nordic Conference on Human-Computer interaction: Changing Roles (Oslo, Norway, October 14 - 18, 2006). NordiCHI '06, 189. New York: ACM Press, 437-440.
Nardi, B. A. and O'Day, V. L., 1998. Information ecologies: using technology with heart. Cambridge, MA: MIT Press.
Neuman, W.L., 1991. Social research methods: qualitative and quantitative approaches. Boston: Allyn and Bacon.
Notess, M., 2005. Using Contextual Design for digital library field studies. Presented at: ACM/IEEE-CS Joint Conference on Digital Libraries workshop. "Studying digital library users in the wild: theories, methods, and analytical approaches", Denver, CO, June 10-11, 2005. Available from: Studying digital library users in the wild, JDCL 2005 workshop report studying digital library users in the wild, D-Lib Magazine, July/August 2005, 11 (7/8), <http://www.dlib.org/dlib/july05/khoo/07_notess.pdf>. [Accessed 18 March 2008].
Preece, J., Rogers, Y. and Sharp, H., 2002. Interaction Design. Beyond human-computer interaction. New York: John Wiley.
PSQG (PUBLIC SERVICES QUALITY GROUP) OF THE NATIONAL COUNCIL ON ARCHIVES, 2006. Survey of visitors to UK archives 2006: national report. Available from: <http://www.ncaonline.org.uk/materials/psqg_national_report_2006.pdf> [Accessed 18 March 2008].
Seadle, M., 2000. Project ethnography: an anthropological approach to assessing digital library services. Library Trends, 49 (2), 370-385. Available from: <http://findarticles.com/p/articles/mi_m1387/is_2_49/ai_72274401/pg_1> [Accessed 18 March 2008].
Sexton, A., Turner, Yeo, G. and Hockey, S., 2004. Understanding users: a prerequisite for developing new technologies. Journal of the Society of Archivists, 25 (1), 33-49.
Siatri, R., 1999. The evolution of user studies. Libri, 49, p.132-41. Available from: <http://www.librijournal.org/pdf/1999-3pp132-141.pdf>. [Accessed 18 March 2008].
Sundqvist, A., (2007). The use of records: a literature review. Archives and Social Studies: A Journal of Interdisciplinary Research, 1 (1), 623-653. Available from: http://socialstudies.cartagena.es/images/PDF/no1/sundqvist_use.pdf [Accessed 18 March 2008].
Van de Sompel, H., Payette, S., Erickson, J., Lagoze, C., 2004. Rethinking scholarly communication: building the system that scholars deserve. D-Lib Magazine [online], 10 (9). Available from: <doi:10.1045/september2004-vandesompel>. [Accessed 18 March 2008].
Van de Sompel, H., Lagoze, C., (2007). Interoperability for the discovery, use and re-use of units of scholarly communication. CTWatch Quarterly [online], 3 (3). Available from: <http://www.ctwatch.org/quarterly/articles/2007/08/interoperability-for-the-discovery
-use-and-re-use-of-units-of-scholarly-communication/7/>. [Accessed 18 March 2008].
Veen, J., 2002. Stalk your user. Dr. Dobb's Journal [online]. Available from: <http://www.ddj.com/dept/architect/184413411>. [Accessed 18 March 2008].
Weinberg, J.B. and Stephen, M.L., 2002. Participatory design in a human-computer interaction course: teaching ethnography methods to computer scientists. In: Proceedings of the 33rd SIGCSE Technical Symposium on Computer Science Education (Cincinnati, Kentucky, February 27 - March 03, 2002). SIGCSE '02. New York: ACM Press, 237-241.
Wildemuth, B.M., 2003. Why conduct user studies? The role of empirical evidence in improving the practice of librarianship. Keynote address at "Fine-Tuning Information Strategies", INFORUM 2003: 9th Conference on Professional Information Resources, Prague, May 27-29, 2003. Available <http://sils.unc.edu/~wildem/INFORUM-2003.Wildemuth.pdf>. [Accessed 18 March 2008].
Wilson, T.D., 2000. Recent trends in user studies: action research and qualitative methods. Information Research [online], 5 (3). Available from: <http://InformationR.net/ir/5-3/paper76.html>. [Accessed 18 March 2008].
Wixon, D. and Ramey, J., eds., 1996. Field methods for software and systems design. New York: John Wiley & Sons.
Copyright © 2008 Kellie Snow, Bart Ballaux, Birte Christensen-Dalsgaard, Hans Hofman, Jens Hofman Hansen, Perla Innocenti, Michael Poltorak Nielsen, Seamus Ross, and Jørn Thøgersen