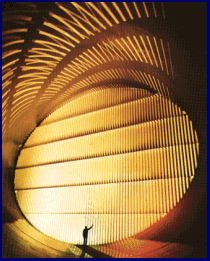 Photograph of guide vanes of NACA 16-Foot Transonic Tunnel courtesy of the National Aeronautics and Space Administration (NASA).
D-Lib Magazine's featured collection this month is the NACA Technical Report Server.


William Y. Arms
Editor in Chief
Cornell University

Peter B. Hirtle
Associate Editor
Cornell University

Bonita Wilson
Managing Editor
CNRI

Catherine Rey
Art Director
CNRI

Laurence Lannom
Technical Advisor
CNRI

Carrie Barnett
Administrative Assistant
CNRI




Introduction to Managing Digital Assets
Diane M. Zorich
Getty Trust Publications, 1999

By Peter Hirtle: "...an excellent overview of many of the issues associated with licensing intellectual property"


Reference Linking for Journal Articles
Priscilla Caplan, University of Chicago and William Y. Arms, Cornell University
Creating a Large-Scale Digital Library for Georeferenced Information
Bin Zhu, Marshall Ramsey, Tobun D. Ng, and Hsinchun Chen, University of Arizona; and Bruce Schatz, University of Illinois, Urbana-Champaign
A Report on the PEAK Experiment: Usage and Economic Behavior
Jeffrey K. MacKie-Mason, Juan F. Riveros, Maria S. Bonn, and Wendy P. Lougee, University of Michigan

Please send questions or comments to:

[email protected]

.


D-Lib Magazine is produced by the Corporation for National Research Initiatives (CNRI) and is sponsored by DARPA on behalf of the Digital Libraries Initiative under Grant No. N66001-98-1-8908.

Copyright� 1999 Corporation for National Research Initiatives

Sites
for D-Lib Magazine include:

DOI:10.1045/july99-contents

Top | Clips and Pointers | Editorial
Home