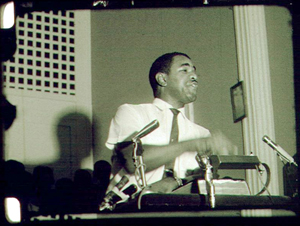 Dr. William Anderson, Albany Movement president, speaking at Mt. Zion Baptist Church, Albany, Georgia, 1962. Copyright© 2008, the University of Georgia. Used with permission.
The Civil Rights Digital Library (CRDL) is the most ambitious and comprehensive initiative to date to deliver educational content on the Civil Rights Movement via the Web.
The CRDL promotes an enhanced understanding of the Movement through its three principal components: 1) a digital video archive delivering 30 hours of historical news film allowing learners to be nearly eyewitnesses to key events of the Civil Rights Movement, 2) a civil rights portal providing a seamless virtual library on the Movement drawing on holdings from more than 90 libraries and allied organizations from across the nation, and 3) instructional materials to facilitate the use of the video content in the learning process.
The centerpiece of the site is a collection of more than 30 hours of historical news film held by the Walter J. Brown Media Archives and Peabody Awards Collection at the University of Georgia Libraries. These moving images – about 450 clips – cover a broad range of key civil rights events, including the desegregation of Central High School in Little Rock, Arkansas (1957); the Atlanta Temple bombing (1958); Atlanta sit-ins (1960); Freedom Rides (1961); desegregation of the University of Georgia and Georgia Tech (1961); the Albany Movement (1961-1962); desegregation of Ole Miss (1962) and University of Alabama (1963); and Americus Movement (1963, 1965); Birmingham demonstrations (1963); among many other topics.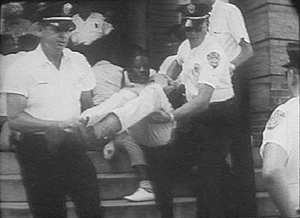 Student protesters kneel on the steps of the Albany (Georgia) Carnegie Library and sing the freedom song "Ain't gonna let nobody turn me 'round," as they are arrested on August 2, 1962. Copyright© 2008, the University of Georgia. Used with permission.
The video archive covers both national figures and local leaders. There are more than two hours of film related to Martin Luther King, Jr. Dr. King's role in the Albany Movement is documented extensively, including clips of speeches at mass meetings, his arrest by local police, press conferences, and his visit to a pool hall to urge local African Americans to adopt non-violence in achieving change in Albany. Among the clips is coverage of King's reaction to President Kennedy's assassination in 1963, his receipt of the Nobel Peace Prize in 1964, and his funeral in 1968.
In addition to the news film, the digital library includes related collections from 90 libraries, archives, museums, and public broadcasters across the nation. Most are original documentation of the period, such as oral histories, letters, diaries, FBI files, and photographs.
A partnership with the online New Georgia Encyclopedia (http://www.georgiaencyclopedia.org) is a key component, providing concise, authoritative articles on events and individuals associated with the Civil Rights Movement in Georgia, supplemented by images and multi-media files.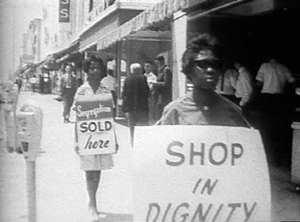 Picketing in front of the Lane Drug Store in Albany, Georgia, 1962. Copyright© 2008 the University of Georgia. Used with permission.
The CRDL initiative includes a special site for teachers, called "Freedom on Film" (currently in development) that relates civil rights stories from nine Georgia towns and cities, along with related news film, discussion questions, lesson plans, and related readings. Freedom on Film is being developed by University of Georgia faculty and students, along with scholars from other institutions.
The Civil Rights Digital Library receives financial support from a National Leadership Grant for Libraries awarded to the University of Georgia by the Institute for Museum and Library Services.
The CRDL will continue to grow through its partnerships with allied organizations across the U.S.
Visit the Civil Rights Digital Library: http://www.civilrightslibrary.org.