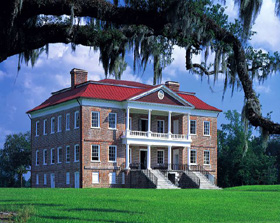 This Georgian-Palladian home was constructed between 1738 and 1742 and is owned and operated by the National Trust for Historic Preservation. Copyright Drayton Hall and National Trust for Historic Preservation. Used with permission.
Drayton Hall is a National Trust historic site in Charleston, South Carolina. Completed in 1742, the historic plantation house is one of the finest examples of Georgian-Palladian architecture in America. Through seven generations of Drayton family ownership, the plantation house has remained in nearly original condition and offers an opportunity to experience history, to imagine the people – white and black – who lived and worked in a far different time.
Part of the mission of Drayton Hall is to preserve and interpret its environs in order to educate the public and inspire people to embrace historic preservation. An important tool in relating that message is the web site for Drayton Hall.
The web site contains basic visitor information, a listing of educational programs and some articles on the history of the site. The web site also offers eight years of digital past issues of the site's quarterly newsletter Interiors in PDF format.
Beginning in 2003, Drayton Hall began to expand its website in a direction that embraced educational interactivity. The reason for this was simple. Drayton Hall expanded its educational programs for school children beginning in 2002 and went from hosting less than 5,000 school children each year to more than 10,000. The educational program offerings now ranged from the history of the American Revolution to archaeology and African-American history. A need to incorporate more interactive educational content on the web site was seen as vital.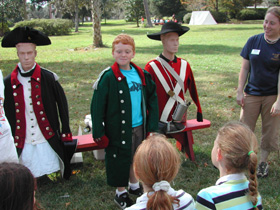 Students participating in one of the many education programs at Drayton Hall, such as this station on uniforms during the American Revolution, can follow-up their experience by taking internet field trips on the topic at Drayton Halls web site. Copyright Drayton Hall and National Trust for Historic Preservation. Used with permission.
With that in mind, Drayton Hall's director of education and research, Craig Hadley, began working on a new area called "Online Exhibits." Within each of these exhibits would be articles, photographs, and interactive activities. There would be a digital classroom for teachers to utilize for pre-and-post visit materials. These online exhibits could also be used for internet field trips for the students.
An important part of these educational programs and associated materials such as the internet field trips was making sure that they adhered to state curriculum standards. Working with a small budget made the project even more challenging.
By 2005, a great deal of work had been accomplished. Drayton Hall now has online exhibits relating to the American Revolution; the Civil War; a photo history of the site; an interactive digital tour of the house and grounds; and a digital classroom for teachers. While the site is still a work in progress with many more components yet to be built, the first phase of this project has been an overwhelming success.
Students and guests visiting the online exhibits can find such things as digital images of 18th century documents, archaeological artifacts, paintings, photographs and much more. In both the American Revolution and Civil War exhibits, visitors can view interactive soldiers and click on the various parts of their uniforms and equipment to view original examples of these items with explanations of their use. In the Civil War area, there is even an interactive area for women's fashion, illustrating various styles of clothing down to the undergarments.
| | | |
| --- | --- | --- |
| Original 18th century documents relating to Drayton Hall, such as this military receipt for goods in the American Revolution, can be viewed in the online exhibits. Copyright Drayton Hall and National Trust for Historic Preservation. Used with permission. | Visitors can see some excavated artifacts from Drayton Hall relating to the American Revolution, such as this Continental Army button from the 1782 occupation of Drayton Hall by American General Anthony Wayne. Copyright Drayton Hall and National Trust for Historic Preservation. Used with permission. | In the photo history exhibit one can view some of the earliest known sketches of Drayton Hall, which were done in the 1840s by Lewis R. Gibbes. Copyright Drayton Hall and National Trust for Historic Preservation. Used with permission. |
The digital classroom has some pre-and-post visit materials for a few programs, including the American Revolution. However, there is much work left to be done in this area. Priorities include expanding the digital classroom as well as adding new exhibits that will include an African-American history section, digital short films from oral histories and other historical topics, as well as a future searchable database of more than 3,000 pages of 18th and 19th century documents located at Drayton Hall.
Thousands of students, teachers, and general visitors to the web site love the new exhibits, which are being utilized in classrooms around the state. However, one can never be satisfied with the status quo. New technologies come into use each year, and how historical resources may be made available online for use is limited only by one's imagination.
These days, an interactive web site that relates to a physical historic site has almost become a requirement. As history melds with the technologies of the present and future, historic sites such as Drayton Hall become available not just to those who can physically visit the site, but also to millions of others who make up the international digital community.
More information about Drayton Hall can be found at <http://www.draytonhall.org >.