What is ARKive?
ARKive is an incredible free online resource. It is a 21st Century Noah's Ark, harnessing the latest in digital technology to bring together – for the first time – the world's most important nature films, photographs, sound recordings, and memories, and then using them to build vivid and fact-backed portraits of Earth's endangered plants and animals.
ARKive is creating a unique record of the world's biodiversity – complementing other species information datasets, and making a key resource available for scientists, conservationists, educators and the general public. All content is made freely available via its award winning website (www.arkive.org), which currently contains:
over 1,600 audio visual species profiles
more than 10,000 still images
over 60 hours worth of movie clips
authenticated fact-files
comprehensive links to further information and relevant conservation organisations
With more than 15,000 species currently threatened with extinction, ARKive is planned as a long-term project with new material being continually added on a regular basis.
The need for ARKive
Films and photographs are an emotive, powerful and effective means of building environmental awareness. They can bring the scientific name of a species to life, show what that species looks like and why it is special.
Without ARKive, this important material would remain scattered around the world, held in a variety of commercial, specialist and private collections, inaccessible to the general public and unavailable for scientific and educational use.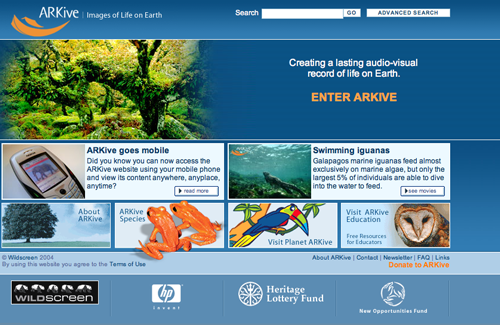 ARKive home page. Copyright© 2005 ARKive. Used with permission.
ARKive is leading the 'virtual' conservation effort – finding, sorting, cataloguing and copying the world's best wildlife imagery to ensure these valuable records are kept together in one place for the benefit of all.
ARKive's content
ARKive's species profiles are arranged into two core chapters:
The British Chapter – profiling rare and protected British species, as well as some of the more common representatives of Britain's fauna and flora, and producing one of the most comprehensive audio-visual records of Britain's natural history heritage.
The Globally Endangered Chapter – a record of the world's endangered species.
For each ARKived species, there is an overview page with links to additional still images and, where possible, movies – all of which can be viewed in varying sizes and formats to allow for different degrees of computer accessibility. There are also scientifically authenticated fact-files linked to sources of further information and relevant conservation organisations.
To help enthuse younger children about the wonders of the natural world, ARKive has also developed two additional resources:
Planet ARKive
This dedicated children's site features species profiles repurposed specifically for children aged 7-11, with accompanying habitat zones, wild facts, as well as fun games, quizzes and activities to help enthuse children about the wonders of the natural world.
ARKive Education
A free online resource for primary school teachers, parents and education officers who want to encourage young children to understand our natural history and learn about wildlife. The site contains a wealth of reliable materials and offers worksheets, project ideas, lesson plans and other support materials.
Launched by Sir David Attenborough in 2002, the ARKive website receives over 18,000 visitors a day from 120 different countries, with users ranging from school children to scientists. In February 2005, using the very latest mobile technology the ARKive website was made accessible via mobile phones, ensuring anyone anywhere in the world can access ARKive species information, images and movies – giving them their very own mobile menagerie.
ARKive is a not-for-profit initiative of Wildscreen, a UK-based educational charity working globally to promote the conservation of nature and the public appreciation of biodiversity through the power of wildlife imagery.
More information about ARKive can be found at:
< http://www.arkive.org >
<http://www.planetarkive.org>
<http://www.arkiveeducation.org>
<http://www.wildscreen.org.uk>