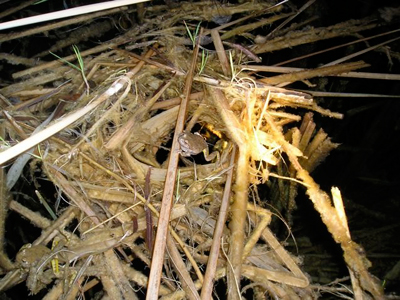 Relict Leopard Frog at lake Mead National Recreation Area in Arizona. Photo copyright 2008, Jeff Rice. All rights reserved. Used with permission.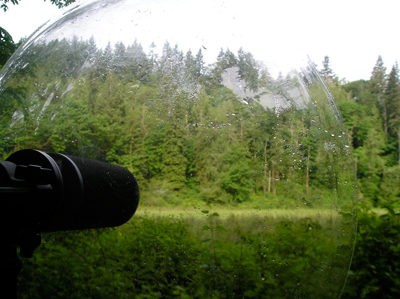 Recording wildlife at a marsh in Washington state. Photo copyright 2008, Jeff Rice. All rights reserved. Used with permission.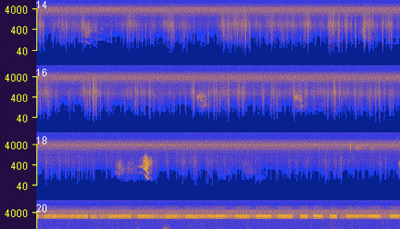 Detail of National Park Service Spectrogram. Courtesy of the University of Utah. Used with permission.
The Western Soundscape Archive (WSA) is a searchable online collection of natural sounds with a unique focus on terrestrial vertebrates from the western United States, including amphibians, birds, mammals and reptiles. Sounds collected come from Arizona, California, Colorado, Idaho, Montana, Nevada, New Mexico, Oregon, Utah, Washington and Wyoming, and the Arctic National Wildlife Refuge in Alaska. Developed at the University of Utah's J. Willard Marriott Library this digital collection provides a regional resource for scientists, researchers, bird watchers, and the general public.
The WSA includes short recordings of individual species that can be used for analysis and identification. Longer ambient recordings can allow listeners to experience the sonic environment of a particular location. These recordings may showcase sounds as varied as the howl of wind, ice cracking, running streams, and the bellows and calls of nearby wildlife. All sounds in the WSA are freely available as streaming audio files over the Web.
A highlight of the collection is 60 hours of recordings from the Arctic National Wildlife Refuge. Recordings come to the archive through the Arctic Soundscape Project, undertaken with partial funding from the J. Willard Marriott Library in 2006 to create a baseline record of sounds in this remote and wild region. Recordings were made at three different locations within the Refuge, representing varied biomes such as boreal/taiga/tundra, foothills/tundra, and costal plain.
In 2009 a collection of more than 10,000 spectrograms from the National Park Service that have never before been widely accessible to the public will become available through the WSA. These spectrograms are visual representations of acoustical monitoring conducted by the National Park Service's Natural Sounds Program at park units throughout the United States. The images allow rapid visual assessment of daily acoustic patterns and show the prevalence of many kinds of sound sources, such as aircraft, bird songs, insect choruses, rain, wind, river flows and the environment in general. Such sound signatures can offer clues about an area's biodiversity and ecological health, and are also a window into the increasing impacts of human-caused noise on the environment.
Recorded interviews with scientists and other experts on natural sounds are also included on the website, providing additional background and contextual information. Selected sounds and interviews from the WSA have been featured on National Public Radio's Living on Earth and the Hearing Voices radio series. The WSA is just starting its second year, with support from a three-year National Leadership Grant awarded by the Institute of Museum and Library Services. Additional sounds, podcasts, and topographic species distribution maps will be added as the WSA is expanded, providing users with a unique and useful archive of regional environmental sounds and data.
The Western Soundscape Archive is powered by OCLC's CONTENTdm® digital asset management software. Open source software packages developed at the University of Utah and used for this project include the Clip-Imp streaming media management software, and U-SKIS, a workflow tracking software. Both are available for free download at SourceForge.
Visit the Western Soundscape Archive: http://westernsoundscape.org.