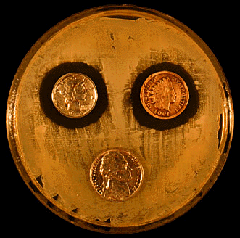 Photograph by Christine L. Case, Ed.D. Microbiology Professor at Skyline College. Courtesy of Access Excellence @ the National Health Museum. Used with permission.
Access Excellence (AE) is the National Health Museum's (NHM) award-winning educational Web site, providing biology and health teachers with online access to scientific information and linkages to their colleagues and members of the life science professions. AE is the initial operating element of NHM's CyberMuseum.
Launched in 1994, AE has been available on the WWW since 1996. Initially developed as a public service by Genentech, AE was given to NHM in 1999 along with a two-year operating grant. More recent support has come from other sources including the U.S. Department of Health and Human Services and the Pfizer Medical Humanities Initiative.
Guided in its early development by a panel of education and scientific advisors, Access Excellence enhanced biology teaching by providing a computer network forum on which teachers could share their innovative teaching ideas and activities – accessing information, expert assistance, and the advice and experience of other teachers to create new ideas and best practices.
Each year for the first three years of the program, the National Science Teachers Association judged a competition to select one hundred Access Excellence Fellows to assist with the design and development of the program and the online forums, and to conduct outreach to other teachers. The core group of 310 Fellows continues as active participants and mentors, who have been joined by over a million new teachers, learners, and teaching communities that participate via the Web.
Access Excellence is organized into five forums, with the most popular sections described below.
DNA and RNA molecules by artist Darryl Leja at the National Human Genome Research Institute (NHGRI). Courtesy of Access Excellence @ the National Health Museum. Used with permission.
Visual Library: Graphics Gallery: Now containing more than 300 graphics illustrating cell and molecular biological processes, this collection is designed to provide students and teachers with ready access to scientifically accurate graphics to use in presentations or non-published papers. Teachers at all levels from middle school to graduate school, research scientists, homeschoolers, and life long learners have made this our most popular forum.
Recommended Resources: Resources have been recommended by members of the Access Excellence community and reviewed using a participant-created rubric.
WHAT'S NEWS: This resource contains archived news stories, interviews with scientists and, just for fun, scientific factoids.
ACTIVITIES EXCHANGE: Activities Exchange is a repository of more than 500 scientifically accurate, pedagogically sound, classroom-tested activities in three collections.
Fellows' Collection: Begun in 1994 when the first of three cohorts of Access Excellence Fellows came together to share lessons and experiences, and to meet with scientists doing cutting edge research, the Fellows Collection continues to be well used by new and experienced teachers, and homeschoolers. All activities were subjected to rigorous scientific and pedagogical review before acceptance into this collection.
Activities-to-Go: Activities continue to be added to the ATG collection. All activities submitted to ATG are reviewed by experienced teachers and checked for scientific accuracy. Activities in the ATG collection can be searched and sorted by keyword, grade level, subject and other special categories, as well as by the National Science Education Standard.
Classic Collection: This collection features papers and activities that examine the people and events that have changed the face of scientific knowledge. Each entry contains background information for teachers and students, classroom activities, and links to related Web resources.
Mystery Spot: A favorite with students and teachers alike, Mystery Spot features interactive, online scientific mysteries developed by Access Excellence for classroom use. These mysteries encourage student problem-solving and inquiry.
LET'S COLLABORATE: SciTalk and Science Seminars feature background information from a scientist linked to related activities that help make the information 'real' for students.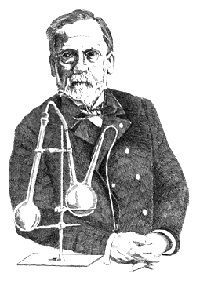 Line drawing of Louis Pasteur drawn by David Wood from Genentech, Inc. Graphics Department. Courtesy of Access Excellence @ the National Health Museum. Used with permission.
Health Question of the Week: Each Question of the Week includes background information and discussion questions about a featured health topic and is designed to increase user understanding of that topic. The health topics chosen for the Question of the Week relate to middle and high school health curricula, apply to the life-style choices students make, and help students better understand the relevance of health-related news to their lives.
Health Focus: Health Focus provides classroom teachers and others with carefully reviewed, readily available, scientifically sound Internet resources related to health programs, activities, and events selected from the National Health Observances Calendar prepared by the U.S. Department of Health and Human Services (HHS).
The efforts of the Access Excellence program to enhance science education have been extremely successful, resulting in recognition by national educational organizations and the media as a model program of private sector support. With the ongoing support of NHM, Access Excellence continues to evolve and grow, while maintaining its well-earned reputation as an online pioneer and significant contributor to science education.
The home page for Access Excellence @ the National Health Museum is: <http://www.accessexcellence.org/>.