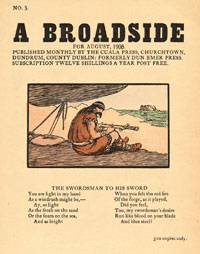 The Swordsman to His Sword / Ernest Rhys. Cover. August 1908. Broadside. Courtesy of Digital Library @ Villanova University. Used with permission.
The Digital Library @ Villanova University is an ambitious new collection of digital resources, created both to broaden access and to preserve materials for future generations. The content mirrors the collection strengths of the print Villanova Special Collections, which focus on the Catholic Church, and Irish and Irish-American history and literature. The digital collections serve as the archive for digitized Special Collection materials, as well as the repository for Villanova University publications. Of note, the Digital Library also includes an Institutional Repository of Villanova faculty publications. All collections are organized into discrete searchable units.
The Digital Library Browser, a locally developed software program based on an XML framework, provides access to the local academic community and scholars worldwide. Content is being digitized in accord with the Digital Library Foundation's Benchmark for Faithful Digital Reproductions of Monographs and Serials, Version 1, and is being organized using METS: Metadata Encoding and Transmission Standard. Resources are being linked to records in the local Voyager OPAC and, for most resources, cataloged in the OCLC Registry of Digital Masters.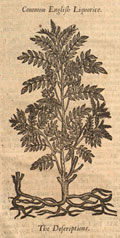 English Liquorice. Botanologia: The English Herbal or History of Plants / William Salmon. v.1 page 643. Courtesy of Digital Library @ Villanova University. Used with permission.
Though still in the initial stages, a focus of the Digital Library @ Villanova University will be to create a collaborative digital library devoted to the study of the Catholic Church and its history, culture, and intellectual heritage. By forming partnerships with individuals and institutions, and through promotion of collaborative digitization and the "digital donation" of content, the Digital Library @ Villanova University will strive to share resources, while allowing donors to retain the original physical artifacts. Some of the initial digital donations include: a signed and hand edited copy of Memoranda During the War by Walt Whitman, donated by an individual, and Iconographia magni patris Aurelli Augustini, a bound set of engraved images depicting the life and conversion of Saint Augustine of Hippo, donated by the Augustinian Historical Institute.
Noteworthy initial digital collections include:
Cuala Press Broadsides: This collection includes the complete catalog of Cuala Press Broadsides, notable as a primary source for many Irish folk songs and ballads and for the illustrations by Jack Yeats, brother of poet W.B. Yeats.
Joseph McGarrity Collection: This collection is comprised of books, newspapers, and personal paper resources from the Joseph McGarrity Collection. McGarrity, an Irish-American patriot and revolutionary, collected, authored and published books on the Irish struggle for freedom under British tyranny. Initial digital content includes the entire run of the newspaper, The Irish Press (1918-1922), the WWI pro-German newspaper The Vital Issue, and books on Irish Gaelic Language and Celtic Druids.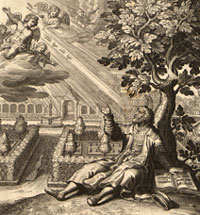 Tolle Lege. Iconographia magni patris Aurelli Augustini : Hipponensis episcopi, et ecclesiae doctoris excellentissimi / George Maigret; Hieronymus Petrie. 1624. page 3. Courtesy of Digital Library @ Villanova University. Used with permission.
Sherman Thackara Collection: Correspondence from the Sherman Thackara Collection contains many letters from Eleanor Thackara to her father, General William Tecumseh Sherman. These fascinating letters frequently refer to public events and contemporary personalities, including local color and references to many individuals, events, and institutions of Philadelphia and the Main Line in the 1880's and 1890's. A unique part of the collection is A. M. Thackara's correspondence, photographs, and memorabilia relating to his years at Annapolis until marriage to his wife Eleanor. Here can be found an unusual first-hand portrayal of Navy life in the post-Civil War period.
Manuscripts: This diverse manuscript collection includes exquisite works such as a Selection from the Holy Koran, the illuminated Confessions of Saint Augustine, and the illuminated poem The Hound of Heaven by Francis Thompson.
Pennsylvaniana: Fascinating books and works on Philadelphia and Pennsylvania history, geography, and literature, including the 1877 Atlas of Philadelphia and Environs, form the foundation of this collection.
Though the initial amount of content is modest, fidelity to the original collections and ongoing exciting additions make this a notable new digital resource. New content is being added each day, and suggestions for digital collections and digital donations of cultural heritage materials are welcome.
The home page for the Villanova Digital Library at Falvey Memorial Library, Villanova University, Villanova, Pennsylvania can be found at http://www.villanova.edu/library/digital/.