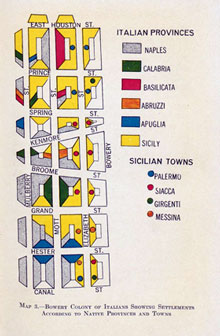 Bowery Colony of Italians Showing Settlement According to Native Provinces and Towns.
A map from Robert Ezra Park's Old World Traits Transplanted. New York : Harper & Brothers, 1921.
Digital image Copyright © by the President and Fellows of Harvard College Used with permission.
The Harvard University Library, the largest university library in the world, is a system of more than 80 libraries with overall collections of more than 15.8 million volumes, as well as journals, primary source materials, images, audio and video recordings, and digital resources that span a wide range of subjects, languages, and dates. These include a vast number of rare-and often unique-books, manuscripts, photographs, maps, ephemera, and other materials that constitute Harvard's special collections.
Finding Individual Digital Objects
Visitors to the Harvard Libraries web site can find and use thousands of individual digital materials from the Harvard collections. While access to many licensed e-resources, such as journals, require a Harvard ID and PIN, many other electronic materials and digital objects are open to all. Here are some places to start:
E-Research @ Harvard Libraries
E-Research @ Harvard Libraries is the University's online system for searching and finding e-resources of many kinds.
HOLLIS Catalog
Use Harvard's online HOLLIS catalog to locate individual digital objects and some digital collections as well. Look for "Internet Links" in HOLLIS records or choose "Digital Resources" when you begin your HOLLIS search.
VIA
VIA, Harvard's Visual Information Access catalog, provides links to more than 270,000 individual images
Web-Accessible Collections
Harvard offers a growing number of subject-specific, web-accessible collections, including photographic collections, documents, musical scores, prints, drawings, historical maps, books, legal transcripts, diaries, manuscripts, and more. To survey these collections-many of which were developed with support, infrastructure, and expertise provided by Harvard's Library Digital Initiative. Sample collections include: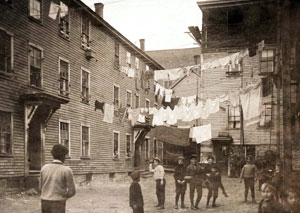 An unknown photographer captured this ca. 1900 image of "tenements occupied by Syrians." The original gelatin silver print is from the Social Museum Collection, Fogg Art Museum, Harvard University Art Museums. On deposit from the Carpenter Center for the Visual Arts.
Digital image Copyright © by the President and Fellows of Harvard College. Used with permission.
Daguerreotypes at Harvard
Images of more than 3,500 daguerreotypes from photograph collections used in research and instruction throughout Harvard University. (Harvard University Library)
Latin American Pamphlet Digital Collection
More than 5,000 titles, including many scarce and unique Latin American pamphlets published during the 19th and early 20th centuries. Chile, Cuba, Bolivia, and Mexico are the countries most heavily represented in this collection. (Widener Library-Harvard College Library)
The Nuremberg Trials Project: A Digital Document Collection
Over one million pages of documents relating to the war crimes tribunals held in Nuremberg after World War II. The digital collection includes thousands of images of pages from the "Case 1 Medical Trial," including transcripts, briefs, documents, books, evidence files, and other papers related to the trial of military and political leaders before the International Military Tribunal (IMT) and to the twelve trials of other accused war criminals before the United States Nuremberg Military Trials (NMT). (Harvard Law School Library)
Harvard's Open Collections Program
Through the Open Collections Program (OCP), the University increases the availability of historical resources from Harvard's library, archives, and museum collections for purposes of teaching, learning, and research-both at Harvard and around the world.
Last November, OCP launched Immigration to the United States, 1789-1930, a web-based collection of selected historical materials from Harvard's libraries, archives, and museums that documents voluntary immigration to the US from the signing of the Constitution to the onset of the Great Depression.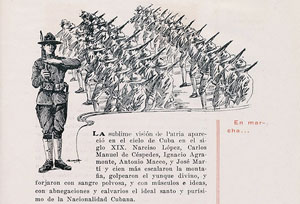 Image from one of Harvard University's collection of Latin American pamphlets.
Digital image Copyright © by the President and Fellows of Harvard College. Used with permission.
Immigration to the United States, 1789-1930, is made possible with the generous support of the William and Flora Hewlett Foundation. The collection is part of a burgeoning international movement to provide educational materials on the Internet that the Hewlett Foundation has helped to pioneer and towards which the Foundation has disbursed more than $60 million in grants to advance the promise of open educational resources-or OER, as it is known to educators.
Concentrating heavily on the 19th century, Immigration to the United States, 1789-1930, includes approximately 1,800 books and pamphlets, 6,000 photographs, 200 maps, and 13,000 pages from manuscript and archival collections. By incorporating diaries, biographies, and other writings capturing diverse experiences, the collected material provides a window into the lives of ordinary immigrants.
Harvard launched its first open collection in 2004: Women Working, 1800-1930, which was also developed with the generous support of the William and Flora Hewlett Foundation. Additional open collections are under development now, including Contagion: Historical Views of Contagious Disease, supported by Arcadia, and the Islamic Heritage Project, supported by Prince Alwaleed Bin Talal Bin Abdulaziz Alsaud.
According to Sidney Verba, Carl H. Pforzheimer University Professor and Director of the University Library, "The experience of working with this University's historical materials has long been an irreplaceable part of a Harvard education. Now, by developing subject-based digital collections on topics of contemporary concern, Harvard is making that experience available to students and teachers everywhere."