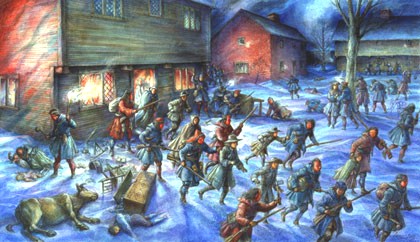 An artist's depiction of the Raid on Deerfield. Illustration copyright by Francis Back. Used with permission.
Contributed by:
Lynne Spichiger
Director of Online Exhibits
Pocumtuck Valley Memorial Asso.
Memorial Hall Museum
and
Juliet Jacobson
Digital Media Design
On February 29, 1704, in colonial America, a force of French and Native American allies launched a daring raid on an English settlement in Deerfield, Massachusetts. One hundred and twelve Deerfield men, women, and children were captured and taken on a 300-mile forced march to Canada in harsh winter conditions. Some of the captives were later redeemed and returned to Deerfield, but one-third chose to remain among their French and Native captors.
Funded by the National Endowment for the Humanities (NEH) and the Institute of Museum and Library Services (IMLS), and created and maintained by the Pocumtuck Valley Memorial Association/Memorial Hall Museum, the Raid on Deerfield website both commemorates and reinterprets the 1704 raid on Deerfield from the perspectives of the five different groups who were present at the event: Kanienkehaka (Mohawk), Wôbanaki (Abenaki), Wendat (Huron), the French, and the English. In doing so, it helps visitors to the site come to a deeper understanding of the raid, the forces that led up to it, and its profound legacy. We hope that it will increase viewers' awareness of the multiple perspectives surrounding the event and encourage them to reach their own interpretations.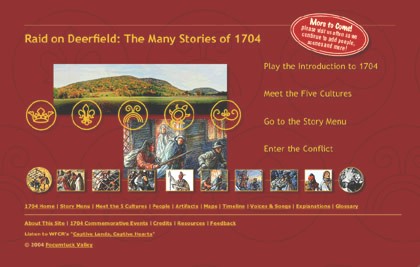 The home page from the website. Copyright 2004 P.V.M.A. Used with permission.
For three centuries, this assault in contested lands has been interpreted from the dominant European viewpoint as an unprovoked, brutal attack on an innocent village of English settlers. However, the same event can be seen as a justified military action taken by Native Americans and their French allies against a highly-fortified English settlement in lands belonging to the natives. Our challenge was to tell this story online in a fair and unbiased way to a general audience.
The website brings together over 20 historical scenes; 23 narratives of people's lives; 165 biographies; over 130 artifacts and historic documents from PVMA and more than 30 institutions in the U.S., Canada, France, England, and Italy; 15 interactive maps; over 400 glossary definitions; over 200 bibliography and webography citations; voices and songs; over a dozen essays; more than 100 illustrations/paintings, many commissioned expressly for this project; and an interactive timeline covering 120 years of Deerfield, North America, and world history, and a Teachers' Guide.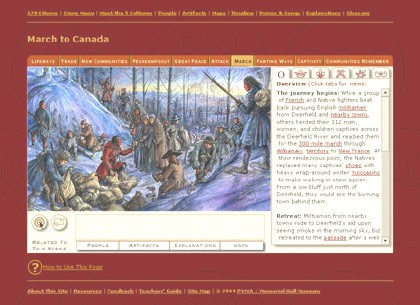 An interactive historical scene page describing the long march back to Canada. Interpretive text by the five different cultures is to the right of the image. Copyright 2004 P.V.M.A. Illustration by Francis Back. Used with permission.
Each of the 20 historical scenes is shown in a richly detailed illustration. The illustration is interpreted by text from the different cultures. A 'tab' design allows visitors to move easily among different perspectives, facilitating comparison and enabling storytelling from conflicting points of view, without losing the coherence of the narrative. A pyramidal, layered content structure permits storytelling in small, understandable, compelling segments, supported by fuller context – thereby capturing the casual visitor's attention and providing a rich context to satisfy the more motivated student. Visitors can dig deep and focus on a particular topic, or remain on the surface for a broader view; they can move through the content from the context of historical scenes and also from menus organized by content type.
Special features provide for user control: interactive maps allow visitors to zoom in and out, and pan left, right, up and down; interactive artifacts permit visitors to turn the artifact around, seeing more of its detail; a "magic lens" feature allows visitors to move a virtual lens over an historic manuscript to reveal a transcription; and a zoom feature permits closer viewing of artifact detail.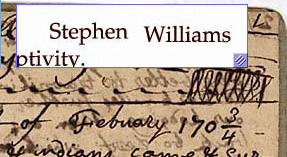 The "Magic Lens" feature allows interactive transcriptions for hard to read primary source documents. Copyright 2004 P.V.M.A. Used with permission.
We have created a model for any organization interested in presenting conflicting points of view on a controversial topic, as well as a process that itself is a collaborative effort, encouraging diverse communities and different cultural groups to work together in a spirit of collaboration, connection, and reconciliation. For more information, contact Lynne Spichiger, Ed.D., Director of Online Exhibits, Pocumtuck Valley Memorial Association, 10 Memorial St., Deerfield, MA, 01342, [email protected], 413-774-7155; or contact Juliet Jacobson, Lead Designer, 413-628-9951, [email protected].
The Raid on Deerfield web site is at <http://www.1704.deerfield.history.museum/>.