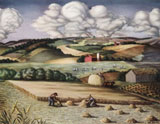 "Harvest Time" by Lois Ireland. Image courtesy of University of Wisconsin Digital Collections Center.
Used with permission.
In October of 2005, the University of Wisconsin Digital Collections Center published its one millionth digital object, "Harvest Time", by Lois Ireland, an illustrative painting that skillfully presents Wisconsin's rolling hills, cobalt skies, regional agriculture, and rustic barns. And while impressive, the UWDCC has continued apace, adding over a thousand audio files, nearly a thousand books, and dozens of videos over the past year, totaling over 320,000 new digital objects.
UWDCC was founded in 2000 in order to promote the "Wisconsin Idea" of distributed learning by providing professional leadership in the creation of digital resources from libraries and archives for faculty, staff, and students, citizens of the state and scholars at large.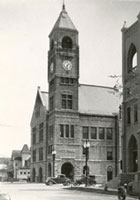 City Hall and Clocktower circa 1930-1939 in Neenah, Wisconsin. Photograph courtesy of the Neenah Public Library. Used with permission.
UW Digital Collection Center works collaboratively with UW System faculty, staff, and librarians to create and provide access to digital resources that support the teaching and research needs of the UW community, uniquely document the university and State of Wisconsin, and provide access to rare or fragile items of broad research value. The UWDCC has also partnered with cultural heritage institutions and public libraries throughout Wisconsin to create digital resources.
Resources within the collections are free and publicly accessible online. They are loosely organized into collections that span a range of subjects including art, ecology, literature, history, music, natural resources, science, social sciences, the State of Wisconsin, and the University of Wisconsin. Digital resources include text-based materials such as books, journal series, and manuscript collections; photographic images; slides; maps; prints; posters; audio; and video.

Japanese violinist and educator, Shinichi Suzuki. Image courtesy of University of Wisconsin Digital Collections Center. Used with permission.
Recently the UWDCC has made available collections made up of audio and video materials. South African Voices presents the work of Harold Scheub, the Evjue-Bascom Professor of the Humanities in the Department of African Languages and Literature, in both print and audio formats. The oral performances presented in South African Voices were gathered during two of three extended visits by Harold Scheub in the late 1960s and 1970s, a time period during which life under the apartheid regime became increasingly bleak. During this time Professor Scheub interviewed a staggering 2,000 storytellers, poets and mythmakers, all of which has been distilled into this three volume online collection.
Also, available is The American Suzuki Institue at the University of Wisconsin-Stevens Point: The Suzuki Method of Action, a collection of videos showing Japanese violinist and educator, Shinichi Suzuki teaching and demonstrating such topics as philosophy, tonalization, finger flexibility and thumb power, posture and left hand techniques, bowing, vertical power, changing strings, tone, and musical tempo.
Other collections include:
New content is added monthly. The home page of the UW Digital Collections can be found at http://uwdc.library.wisc.edu/