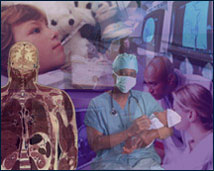 Collage created by Joe Fitzgerald
National Library of Medicine
National Institute of Health.
Used with permission.
The image above represents the variety of information on MEDLINEplus, D-Lib Magazine's featured collection this month.


William Y. Arms
Editor in Chief
Cornell University

Peter B. Hirtle
Associate Editor
Cornell University

Bonita Wilson
Managing Editor
CNRI

Catherine Rey
Art Director
CNRI

Laurence Lannom
Technical Advisor
CNRI

Carrie Barnett
Administrative Assistant
CNRI




Usable Information Designs: A review of two recent books:
Designing Web Usability: The Practice of Simplicity, by Jakob Nielson, New Riders Publishing: 2000; and
Information Design, edited by Robert Jacobson, MIT Press, 1999.

By Jeremy Hylton: "...both books suggest that the measure of a design's quality should be its effect on user behavior and satisfaction and that the only way to achieve that quality is to do real tests with real people during the design process."