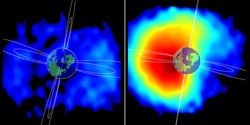 Images acquired before and during a magnetic storm, showing the buildup of energetic particles surrounding the Earth during the storm's main phase. Courtesy of the IMAGE HENA Team and NASA.
Contributed by:
William Lewis and James L. Burch
Southwest Research Institute
The space surrounding Earth is not empty, although it appears to be. "Geospace" is, in fact, populated by a rarefied gas of electrically charged particles (plasma) whose motions are controlled by Earth's magnetic field. This region of space, known as the magnetosphere, is the site of fascinating and complex physical processes involving plasmas, electric and magnetic fields, and electrical currents. It is also the medium in which "space weather" occurs -- disturbances driven by solar storms that can adversely affect satellites, navigation and communication systems, and power grids and that can threaten the health and safety of astronauts.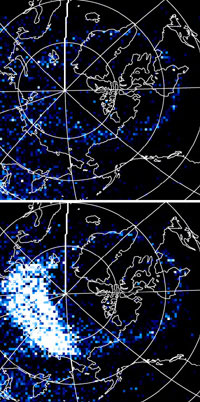 An abrupt brightening of the Northern Lights over Siberia caused by the impact of an interplanetary shock wave on Earth's magnetic field, as viewed by the IMAGE satellite from an alitude of 20,500 miles above the North Pole. Courtesy of the IMAGE FUV Team and NASA.
Until a few years ago, this dynamic region of space could be studied only by highly localized measurements from single spacecraft, which provided valuable "pixels" but not a complete, global picture of the structure and dynamics of the magnetosphere. That situation changed in the spring of 2000, with the launch of NASA's IMAGE* spacecraft, which uses innovative imaging techniques to "see" magnetospheric plasmas that are invisible to traditional astronomical observing techniques. Thanks to IMAGE, scientists can now use global pictures to visualize the magnetosphere's response to solar storms and other external and internal influences.
The IMAGE web site is maintained at Southwest Research Institute in San Antonio, Texas, the principal investigator institution for IMAGE. The site offers detailed and illustrated descriptions of the IMAGE mission, the spacecraft, and the instrumentation. An illustrated glossary, written on the level of a Scientific American article, provides tutorials on key concepts in space physics. The site also provides links to other IMAGE-related web sites, which are maintained by the different instrument teams; to POETRY, IMAGE's E/PO web site at NASA's Goddard Space Flight Center; and to the IMAGE web site at Goddard.
*IMAGE stands for "Imager for Magnetopause-to-Aurora-Global Exploration".
The Image web site is <http://pluto.space.swri.edu/IMAGE/>.