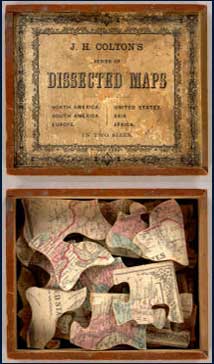 (Box Cover to) J.H. Colton's Series of Dissected Maps. Copyright 1998 - 2000 Cartography Associates. Used with permission.
The image above is from The David Rumsey Collection, D-Lib Magazine's featured collection this month.


William Y. Arms
Editor in Chief
Cornell University

Peter B. Hirtle
Associate Editor
Cornell University

Bonita Wilson
Managing Editor
CNRI

Catherine Rey
Art Director
CNRI

Laurence Lannom
Technical Advisor
CNRI

Carrie Barnett
Administrative Assistant
CNRI




Digital Libraries
William Y. Arms
MIT Press, 2000

By Wendy Lougee: "...a cumulative and cumulating narrative about the diverse and interrelated piece-parts of digital libraries, including the human players in this technology arena."


Collection-Based Persistent Digital Archives - Part 2
Reagan Moore, Chaitan Baru, Arcot Rajasekar, Bertram Ludaescher, Richard Marciano, Michael Wan, Wayne Schroeder, and Amarnath Gupta, San Diego Supercomputer Center
MyLibrary: Personalized Electronic Services in the Cornell University Library
Suzanne Cohen, John Fereira, Angela Horne, Bob Kibbee, Holly Mistlebauer, and Adam Smith, Cornell University
Creating Accessible Digital Imagery
Clare L. Birdsey, University of Westminster