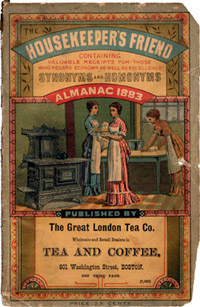 Great London Tea Company, The Housekeeper's Friend, Almanac (1883). Baker Library, Harvard Business School. Used with permission.
The goal of the Open Collections Program (OCP) of Harvard University Library is to increase the availability of historical resources from Harvard's library and museum collections for purposes of teaching, learning, and research — both at Harvard and around the world. The OCP believes that a topic-based approach to building digital collections creates broader and deeper collections thereby increasing relevance for a broad and diverse audience (teachers, scholars, students, and the generally curious). Materials are selected from across many collections at Harvard University for their relevance to a broad topic area and assembled into a multi-faceted and coherent digital collection. While this process is more laborious than selecting materials based on physical proximity of volumes on a shelf, or pre-existing collection groupings, the resulting digital collections become more pertinent to a broad spectrum of users.
The OCP operates under three main principles:
Selection Standards — Create comprehensive, topic-based digital collections by carefully selecting topics and materials;
Production Standards — Create digital surrogates that are both faithful to the original publications and of such high quality that there will be no need for re-digitization by other institutions;
Access Standards — Provide easy online access to digital collections through local and national catalogs and a dedicated website.
These principles have guided the first two projects of the OCP.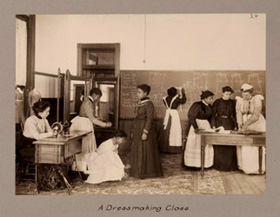 Hampton Normal and Agricultural Institute, Hampton, Va.: A Dressmaking Class, ca. 1900. From the Social Museum Collection, Fogg Art Museum. Used with permission.
The program encourages teachers to make use of these materials, including incorporating them into course syllabi and lesson plans. The collections provide an opportunity for students to learn the value of working with historical resources as well as the nature of scholarly analysis and research. An early study commissioned by the program, "Using Women Working Resources in Schools," illustrates models for using OCP resources in the classroom.
The First Open Collection

Women Working, 1800-1930
<http://ocp.hul.harvard.edu/ww>
This collection explores women's roles in the US economy between 1800 and the Great Depression. Working conditions, conditions in the home, costs of living, recreation, health and hygiene, conduct of life, policies and regulations governing the workplace, and social issues are all well documented by original source material. The collection, drawing from 9 Harvard libraries and 1 museum, debuted in 2004 and now contains:
3,500 digitized books, pamphlets and serials
1,125 photographs
7,500+ pages from manuscript collections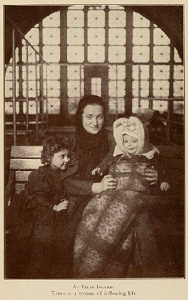 Hines, Louis [sic]. "At Ellis Island: There is a stream of inflowing life," in the book, The House on Henry Street, 1915. Used with permission.
The Second Open Collection
Emigration and Immigration to the United States,
1789-1930
<http://ocp.hul.harvard.edu/ei>
The OCP is embarking on another exciting project, the digitization of a selection of Harvard's library and museum resources on the topic of emigration and immigration to the United States between the American Revolution and the Great Depression. When completed, the project website will provide access to a comprehensive digital collection of hundreds of source materials on this topic. The first materials from this collection will become available online in the fall of 2005. The collection is expected to be comparable in size to Women Working when completed.
Harvard University established the Open Collections Program in 2002, with funding from The William and Flora Hewlett Foundation. The program has received subsequent support from The William and Flora Hewlett Foundation and The Lisbet Rausing Charitable Fund, and will continue to build topic-based digital collections from across Harvard's repositories.
More information about the Open Collections Program, including extensive project documentation, can be found at <http://ocp.hul.harvard.edu>.