D-Lib Magazine
June 2003
Volume 9 Number 6

ISSN 1082-9873
In Brief
---
ICON (Innovation Curriculum Online Network): The National Digital Library for Technology Literacy
Contributed by:
Quentin M. Briggs
Project Leader
Eisenhower National Clearinghouse
Ohio State University Columbus, Ohio
<qbriggs@enc.org>
The International Technology Education Association (ITEA - http://www.iteawww.org), in partnership with the Eisenhower National Clearinghouse (ENC - http://www.enc.org) and funded by the National Science Foundation has created a comprehensive digital library collection for K-12 technological literacy in an accessible virtual environment. ICON, or the Innovation Curriculum Online Network (http://www.icontechlit.org), is the first central source for information dealing with technology and innovation. ICON serves as an electronic roadmap to connect users, such as teachers, professors, students, museum staff, and parents with information about our human built and innovated world. Users may use the digital library to access resources ranked according to technological literacy content and pedagogy, interact with quality instructional resources, and enhance online search capabilities relevant to the needs of the user population. The user-focused digital library will contain online resources including websites, electronic files, information about professional organizations, government agencies, public and private foundations, and commercial enterprises. Identification and selection of these resources are aligned with the Standards for Technological Literacy (http://www.iteawww.org/TAA/Publications/STL/STLListingPage.htm), grade and age level appropriateness, sound instructional and disciplinary content and current availability of and access to materials.
ICON was officially launched by ITEA at the International Technology Education Conference, March 13-15, 2003 in Nashville, Tennessee. In a special session during the conference, ICON was overwhelmingly received with positive feedback and optimistic commitments from participants to promote and contribute to the digital collection. ENC (http://www.enc.org) has built a robust electronic infrastructure to support: the development of relevant and appropriate metadata (in conjunction with other synergistic NSDL projects); the processing of records and abstracts; the development of value-added user interfaces; and the maintenance of computer services for optimum and continuous digital library operations. An advisory board is providing annual input into digital library development and identification of quality digital resources. Field testing of the collection and its services is being undertaken with diverse groups of users to evaluate ease of navigation and discovery of content-rich, pedagogically sound resources. In addition, a variety of methods for sustainability of the collection are being explored, including public and/or private sponsorship and subscriber support.
Currently, users can to take advantage of features that include "Suggest a Resource" (with selection criteria), "Simple Search", "Advanced Search", and "Browse by Technology Concept". Users may also register free with ICON and log in to other features such as "User Comments" for each resource and "My ICON Favorites" which will allow easy access and sorting of preferred resources in specified user folders.
---
Contributed by:
Zehua Liu, Ming Yin, Hai Yu, Ee-Peng Lim, Dion Hoe-Lian Goh,
Yin-Leng Theng, and Wee-Keong Ng
Centre for Advanced Information Systems
Nanyang Technological University, Singapore
<aseplim@ntu.edu.sg>
G-Portal is a specialized digital library portal for geospatial and georeferenced resources that can be found on the Web. Other than its distinctive geo-favors, G-Portal represents the metadata of resources in XML and supports the notion of resource schema to accommodate a wide range of metadata resources. To support different logical groupings of these metadata resources for different application needs, we also introduce the concept of projects. A project is essentially a collection of metadata resources that may have different resource schemas. Each metadata resource has only one owner but could appear in multiple projects.
An example of a city metadata resource is shown in Figure 1. This metadata resource contains a set of elements such as ID, ResourceName, Location, and Source that are compulsory for every resource in G-Portal. The elements under the Content element are, however, dependent on the type of the resources. For a city resource, some elements specific to cities are included, such as population, state, country and its industries. With a set of mandatory elements together with user-defined elements, the metadata resources are able to cater to the heterogeneity of Web resources and at the same time permit a common set of core elements for manipulating resources.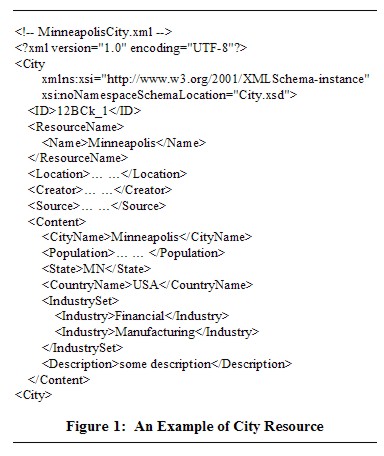 In addition to the metadata resource storage, G-Portal also facilitates a set of functionalities that includes user interface, annotation and queries. Figure 2 depicts the classification and map-based user interface of G-Portal. The former is a Windows explorer-like tool to view the list of metadata resources arranged in categories. The latter gives easier access to geospatial resources using their spatial locations. The G-Portal's annotation system also encourages user comments to be added to facilitate knowledge sharing. To keep the design simple, we model each annotation as an extended resource and provide the links between them. Finally, G-Portal has an XQuery-based resource query language known as RQL. The language extends XQuery with spatial data types and predicate functions. A query user interface is also included to simplify query formulation for the novice users.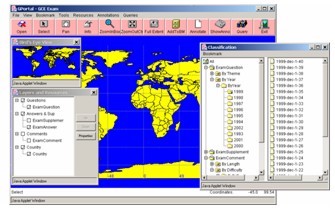 Figure 2: Map-based and Classification-based interface
(For a larger view, click here.)
For additional information, please contact Dr. Ee-Peng Lim, <aseplim@ntu.edu.sg>.
Acknowledgement
This work is funded by the SingAREN Project M48020004.
Reference
E.P. Lim, D. Goh, Z. Liu, W.K. Ng, C. Khoo, S.E. Higgins, "G-Portal: A map-based digital library for distributed geospatial and georeferenced resources," ACM+IEEE Joint Conference on Digital Libraries (JCDL 2002), Portland, USA, July 2002.
---
Contributed by:
Cathy Nelson Hartman
Head, Digital Project Department
University of North Texas
Denton, Texas, USA
<chartman@library.unt.edu>
The University of North Texas is building a Web Portal to Texas History. The site will offer students and historians interested in Texas history a portal to the rich collections held in Texas libraries, archives, and historical museums. Project initiatives include:
Digitization of all types of materials related to the history of Texas. This includes photographs, artifacts, texts, letters, videotapes of historical reenactments or events, and oral histories.
Coordination of digitization projects across institutions based around themes or topics.
Development of collaborative partnerships with other libraries, archives, and museums in the state with Texas history related collections. Smaller institutions hold particular interest for collaboration since they often do not have the resources or technical knowledge to digitize collections.
Creation of metadata standards. UNT proposes a metadata element set for the project that includes both discovery and preservation metadata, and begins to explore issues of required controlled vocabularies.
Coordination of grant seeking for project funding.
Development of portal interfaces for special user groups including young scholars and seasoned researchers.
Creation of an application framework to manage all portal services. For example, portal services will include special spaces designed for teachers and their classes and will allow students to log into the site for assigned readings and to post comments to their fellow students. Also, curriculum guides will be written for teachers to assist them with teaching modules using the portal resources.
A project vision statement with links to project technical documentation may be viewed at <http://texashistory.unt.edu>.
Phase One of the project is currently under way with four objectives that are to be completed by September 2003. They are:
Build a technical structure for the Portal services.
Create standards and best practices guidelines required for participation in the Portal project, and design a module to train library and museum staff members at collaborating institutions regarding the digitization processes outlined in the standards and guidelines.
Develop a Portal Web site to guide students and researchers in the use of the resources.
Create an evaluation plan for the first four years of the project and implement the first year of the evaluation plan.
Future phases will focus on building relevant content, expanding collaborative partnerships, and development of supporting materials for teachers.
If you are considering or currently involved in creating a gateway to resources about the history of your state and you are interested in sharing ideas and information or exploring collaborative projects, please contact Cathy Hartman <chartman@library.unt.edu> at the University of North Texas.
---
Contributed by:
Christine Walker
Instructional Designer
Advanced Technology Environmental Education Center (ATEEC)
Bettendorf, Iowa, USA
<cwalker@eicc.edu>
In 1999 the Advanced Technology Environmental Education Center (ATEEC, an NSF Center) received a grant from IMLS to develop a library of environmental education resources for community college educators and students. ATEEL, the Advanced Technology Environmental Education Library, resulted from that grant and is located at <http://ateel.ateec.org>. In October 2002 ATEEC received an NSDL grant to create a new electronic environmental resources library, eERL, which will replace ATEEL in 2004.
ATEEL was a "silo" of excellent information reviewed by expert educators chosen from the Partnership of Environmental Technology Education (PETE). These community college educators knew their audience, students and educators, as well as practitioners, in environmental science and technology. However vetted the ATEEL site was, it was not interoperable. So ATEEC wrote a grant to NSDL to create a new vetted site that will be interoperable and become part of the NSDL community. New content on eERL will include links to original research from MIT's Laboratory for Energy and the Environment as well as 10 new vocational technical areas.
eERL, like ATEEL, will focus on the needs of community college education and practitioners who graduate from their programs. The graduates become air quality technicians, emergency planners, energy managers, GIS technicians, solid waste management technicians, ergonomists, safety coordinators, biotechnology analysts, fisheries technicians, underground storage tank technicians, and wastewater treatment plan operators. This list names a few of the many occupations helping keep our environment safe and healthy.
eERL, currently in its first year of development, benefits from the support of the NSDL community. It takes a lot of behind the scenes work to create libraries with information that can be harvested, shared and used seamlessly. With all of the portals soon to be available at nsdl.org, students and educators can look forward to NSDL's "treasure" of resources. The ATEEC team working on eERL value the library development resources of the NSDL community.
---
In the News
Excerpts from Recent Press Releases and Announcements
xreferplus Talks
"Boston, MA, June 10—xrefer, an online reference service provider that offers full-text, aggregated and integrated content to corporate, academic and public libraries, announced today that it is adding over 76,000 audio MP3 files to its online reference service, xreferplus. The spoken-word files are being added to aid researchers in the pronunciation of medical, scientific and technical terminology, as well English-language words in general..."
"MP3 files are currently available at xreferplus for Dorland's Illustrated Medical Dictionary and will be available for The American HeritageR Dictionary of the English Language and the Academic Press Dictionary of Science and Technology by the end of June. Additional sound files will be added as they are made available from xrefer's partnering publishers."
For further information, please see the xrefer web site <http://www.xrefer.com> or contact Ellen McCulough <ellen.mccullough&064;exrefer.com>.
---
Indiana University received Mellon Foundation grant to expand scholarly research on "the commons"
Announced by Eric Bartheld on May 28, 2003:
"A grant of $425,000 from the Andrew W. Mellon Foundation will help Indiana University expand its digital library of information about shared natural and societal resources known to public policy-makers as 'the commons.' These resources include a diverse set of elements ranging from air, land and water to genomic data, property rights and the Internet. The grant will also allow IU researchers to initiate a study of scholarly communication as information commons."
"In August 2002, IU researchers established the 'Digital Library of the Commons.' By digitizing and preserving literature on the study of the commons and creating a global depository for international research, the online library was created to serve an interdisciplinary worldwide community that includes policy-makers, scientists, economists, educators, and practitioners. A goal of the project is to make scholarly research about human management of the commons available broadly to the developed and developing world..."
For further information, please see <http://dlc.dlib.indiana.edu/>.
---
USPTO Releases Report on Technology to Protect Digitized Copyrighted Works
"May 20, 2003 - The Department of Commerce's United States Patent and Trademark Office (USPTO) today released its report to Congress on technology designed to protect digitized copyrighted works from infringement, as required under the 'Technology, Education and Copyright Harmonization Act of 2002' (TEACH Act). "
"In response to specific questions posed by Congress, and drawing on public comments submitted and testimony from a public hearing held at the USPTO on February 4, 2003, USPTO identified over 100 commercial firms that have developed, are proposing to develop, or offering such technological protection systems. The report contains information on selected products that are currently available in the marketplace, along with industry-led initiatives, including standard-setting activities, to develop new products."
"'Protection of America's digitized copyrighted works is an increasingly important part of intellectual property protection, and this report provides a snapshot of technological protection systems in today's dynamic marketplace,' said Under Secretary of Commerce for Intellectual Property James E. Rogan. 'I hope that the information will be useful to Congress as it continues to respond to the challenges and opportunities in the digital environment.'"
"The TEACH Act report is intended solely for information purposes. Congress will use it in establishing a baseline of knowledge for what technology is or could be made available and implemented. The USPTO has not conducted an independent analysis of these companies and makes no recommendations, comparisons, or comparative assessments of their products or services."
"The report is available on the USPTO Web site: <http://www.uspto.gov/web/offices/dcom/olia/teachreport.pdf>."
---
IMLS Launches Online Project Planning Tutorial
Tutorial designed to make federal competitive grant applications easier
"Washington, DC, Updated May 19, 2003 - The federal Institute of Museum and Library Services (IMLS) has launched an online tutorial to help libraries and museums develop project plans for its National Leadership Grant applications. This tool is designed to make it easier to develop good, competitive applications for federal IMLS grants. Others will also find the tutorial useful for planning projects and IMLS welcomes all users."
"'We know that applying for competitive federal grants can be daunting,' said Dr. Robert S. Martin, Director of the federal IMLS. 'Our tutorial is informative and easy to use. Visitors will find real world examples, tools, schedules, exercises, and even reality checks to help assess their readiness to move from one section to the next. This innovative tool exemplifies IMLS' commitment for a more transparent, effective, and useful government.'"
"The tutorial is divided into four sections taking the user from project planning through implementation. It begins with a step-by-step process for getting projects underway, including analyzing organizational needs, identifying target audience, and formulating goals. The second section helps to develop the components of a project plan, including activities, evaluation approach, schedule, and resources. The third and fourth sections offer tips for writing applications and implementing successful projects. Throughout the tutorial the need to identify and communicate with stakeholders is emphasized."
"While this planning tool is designed for developing IMLS grant applications, it can be used by anyone who would like to learn more about project planning and development. Senior program officers at IMLS with years of experience coaching applicants worked together with museum professionals and librarians to develop this powerful learning resource. IMLS hopes that it will be useful in many different settings, including professional education and development, staff training, and a wide array of project planning activities."
"Visit the tutorial at <http://e-services.imls.gov/project_planning>."
Copyright 2003 © Corporation for National Research Initiatives
---
Top | Contents
Search | Author Index | Title Index | Back Issues
Previous Article | Clips & Pointers
E-mail the Editor
---
DOI: 10.1045/june2003-inbrief