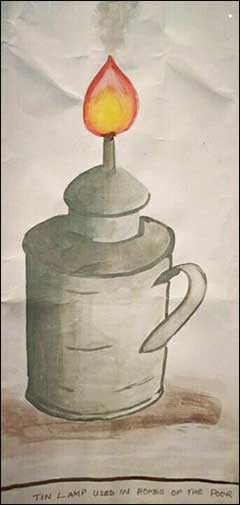 Tin Lamp Used in the Homes of the Poor. Tin Lamp. Unknown Artist. Tempera. Copyright © Christian Children's Fund. All rights reserved. Courtesy of PapaInk and Christian Children's Fund. Used with permission.
PapaInk is the archival home of children's art. The nonprofit organization's archival site documents and exhibits children's art collections from its own physical holdings and presents works donated or shared by organizations and individuals worldwide. The result is to bring to public view collections that would otherwise remain largely unseen, and to bring together widely dispersed works of children's art in a single, dedicated context.
PapaInk makes available an extensive international sampling of historical children's art, works by contemporary children and the childhood work of professional artists. Selected holdings, such as the Jewish Museum in Prague's WWII era Terezín collection and the Christian Children's Fund collection spanning 60 years, are works of established historical value given permanent, broad-based public exposure for the first time through presentation on PapaInk. Other holdings, such as works contributed by nonprofits, businesses, professional artists, educators and young artists themselves, are brought within the purview of historical and contemporary appreciation by virtue of PapaInk's exhibition and preservation efforts.
The depth and breadth of PapaInk's holdings give rise to a unique and surprisingly profound experience of children's art. The dignity of each piece and each collection is heightened by its placement within -- and relationship to -- PapaInk's substantial, respectfully presented body of children's work. The total effect is a transformed sense of children's art and of children's expressive capacities.
More and more people are experiencing this transformation first-hand. PapaInk expects to draw 1.5 million visitors to its digital archive this year alone. As a singularly rich resource of children's expression and experience, PapaInk attracts a world audience of libraries, schools, academicians, parents, children and members of arts communities.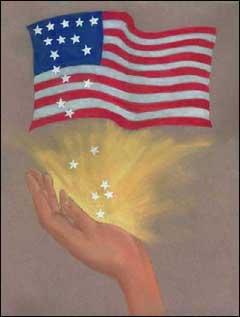 Artwork created in response to September 11, 2001. Falling Stars, 2001. Student Artist. Mixed Media. Copyright © Haddon Heights High School, New Jersey, USA. All rights reserved. Courtesy of PapaInk and Haddon Heights High School. Used with permission.
Beyond engaging the public as viewers and appreciators of children's works, PapaInk provides a venue for young artists, their families and communities to exhibit and preserve their art. The organization also works with businesses, nonprofits and libraries to sponsor children's art collections that are displayed and permanently archived on PapaInk. Central to PapaInk's collection development activities are the efforts of a worldwide network of volunteers who contribute personal and institutional collections, and gather children's art from their local communities for archival exhibition on PapaInk.
PapaInk is a core initiative of The Children's Art Legacy Foundation. In helping to reconstitute the legacy of children's art, PapaInk furthers the Foundation's vision of a world encouraging of and revitalized by the creative spirit of youth.
Contributed by:
Marc Feldman
Executive Director, PapaInk
<marc@papaink.org>
Audrey Manring
Director, PapaInk
<audrey@papaink.org>
http://www.papaink.org/